Design work
OISE art, design & architecture
Exhibit & promotional design
OISE D&A
The Dominion Modern Museum curated an exhibit on mid-century architecture to celebrate the famous University of Toronto building. In collaboration with the Dominion Modern exhibition curator, I designed an exhibit wall of 56 panels showcasing the history and present state of the building, along with marketing collateral (postcard mailer and poster).
School of Design Exhibit 2
Exhibit installation & graphic design
RAW: third year final show
For my Exhibit 2 class I work with the other students to create the third year final show. We designed the show, RAW to express the roughness of student work. Invitations were printed on sand paper with the RAW logo spray painted on the sand surface (due to a windy day, we attempted to do this inside... which was not a well-ventilated space). We battled a faculty strike, and issues finding a good venue, but pulled the show off in the end. (I did not appear to take photos of the event or installation).
With the show quickly approaching, our installation system fell through which required a quick fix. I came you with a novel solution using the IKEA STOLMEN closet system. I hopped on the subway and returned to school with two upright posts, two cross supports and an angled shoe shelf. Set up in our classroom, I demostrated that the system could be installed free-standing, with a graphics banner looped around the cross supports. Our Dean immediately approved the installation, and we headed back to IKEA for a big shopping trip.
In additional to the installation, I did the graphic design for the exhibit introduction panels and the name tags (I had a laminator).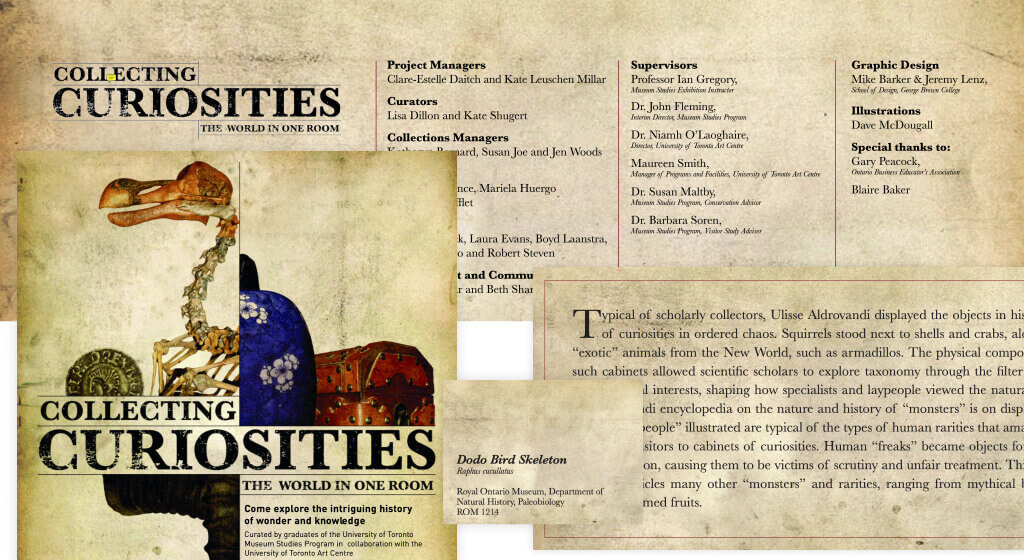 U of T Museum Studies
Exhibit materials graphic design
Collecting Curiosities: the world in one room
While at the School of Design another student and myself were invited by our Information & wayfinding professor Ian Gregory to audit and assist with the design materials for his University of Toronto Museum Studies exhbition course. Working along side the class of U of T graduate students, we produced the exhibit branding, poster, and all signage & item caption cards.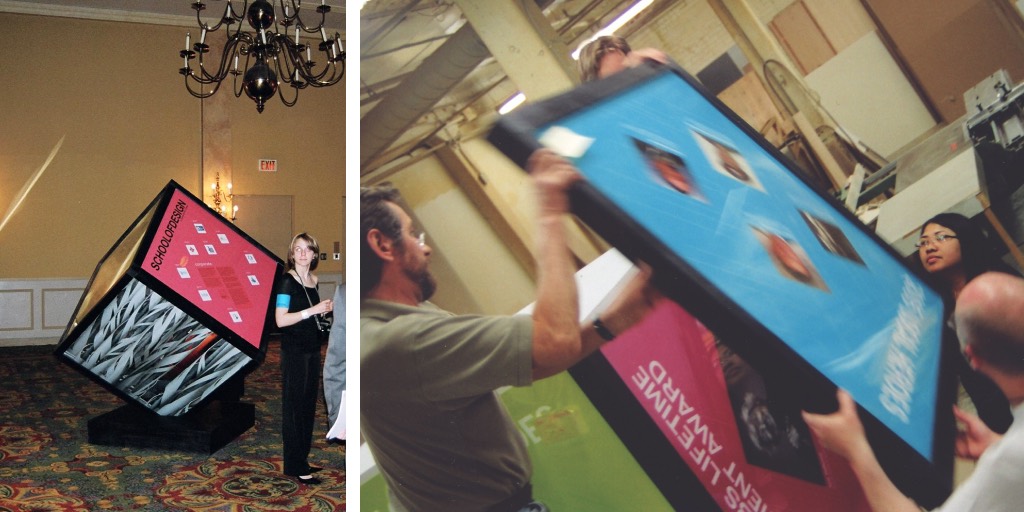 CUI annual awards
Exhibit & wayfinding design
Urban Leadership Awards
A selection of George Brown College students were invited by the Canadian Urban Institute to help create an ongoing exhibit to help brand the event and celebrate the award winners. My contribution to the team included graphics production & working with the printer, designing the wayfinding, and assisting with adhering the graphics to the inside of the exhibit cubes. We adhered the graphics useing the 3M glue used on the back of post-it notes, which allowed some adjustment.
In total 3 cubes were made and placed on their diagonal axis, each featuring 3 upper graphics panels and three lower photo texture panels.