That time I attended WWDC 2018
And Google i/o too
In the last few months I've been lucky enough to win a ticket to both WWDC and Google i/o, both held in Silicon Valley only a month apart.
Experiencing both conferences so close together does allow a good perceptive to compare the two events. Of course these are developer conferences but also both have design content. Getting access to Apple & Google engineers is a great opportunity not just for developers.
Basic Apples to Googles comparison, WWDC costs more than i/o, yet is longer. Google gives free devices (a Home Mini & Android things dev kit) while Apple gives out the Levi's jacket and the awesome pins. Both have a concert/festival night, however Apple did well in booking a name I'd heard of (the guy from Panic at the Disco).
Full disclosure, I've have been an Apple customer since getting a black & white Mac Classic 2. I've now nearly lost count on the number of Macs I've owned (not counting vintage or work machines). It's not about being a faithful fan boy, but owning a better designed product (even through the mid-90s). And I've watched numerous WWDC keynotes and product launches, so it was certainly a dream to attend.
For i/o I stayed surprisingly close to Apple Park; less luck and more slow on the booking left me staying in Santa Clara a short walk from one of the conference shuttles. It was also a short walk to Cupertino and the new Apple Campus. So the day before Google i/o I was picking up my badge, then rushing to visit both Campus stores before they closed. (Fun fact, there are better t-shirts at the One Infinite Loop store).
With WWDC located in San Jose, it's easier to stay nearer the venue and get around on foot (or Bird scooter). Mine was still a hike, or tram ride away. Google provides all meals & snacks at any time which is helpful given the remote location, while Apple provides some breakfasts, lunches and snacks at certain times and there are loads of dinner options around San Jose (hello first time at an In & Out).
Clockwise from top left: San Jose in the early morning (we'd been waiting over an hour before getting this close), conference signage at a San Jose tram stop, the vast line behind us waiting for the keynote, the keynote room filling up.
The talks
WWDC really excels at cramming a lot of information in their near one hour sessions. I've watched many of the videos on design and various technologies in the iOS SDK so I knew what to expect. Regular attendees suggest skipping many of these (watch the video later) and instead go network. Not needing to network, I instead took in a ton of sessions and learned a great deal, some of which is still in my brain. The design talks were especially brilliant and thought provoking — I had to corner one speaker outside to ask some followup questions.
For Google, the sessions are shorter and of the ones I attended, were lighter on in-depth specifics (slides of code). We were treated to a few guests including design leader John Maeda giving a mini state of design talk before interviewing Black Panther production designer Hannah Beachler on stage. I also found the Google sessions were almost advertisements for the given product since the short session and overview avoided deep details. However in my opinion this was less the case with the Material design and Flutter talks, though this perspective could be due to my design background).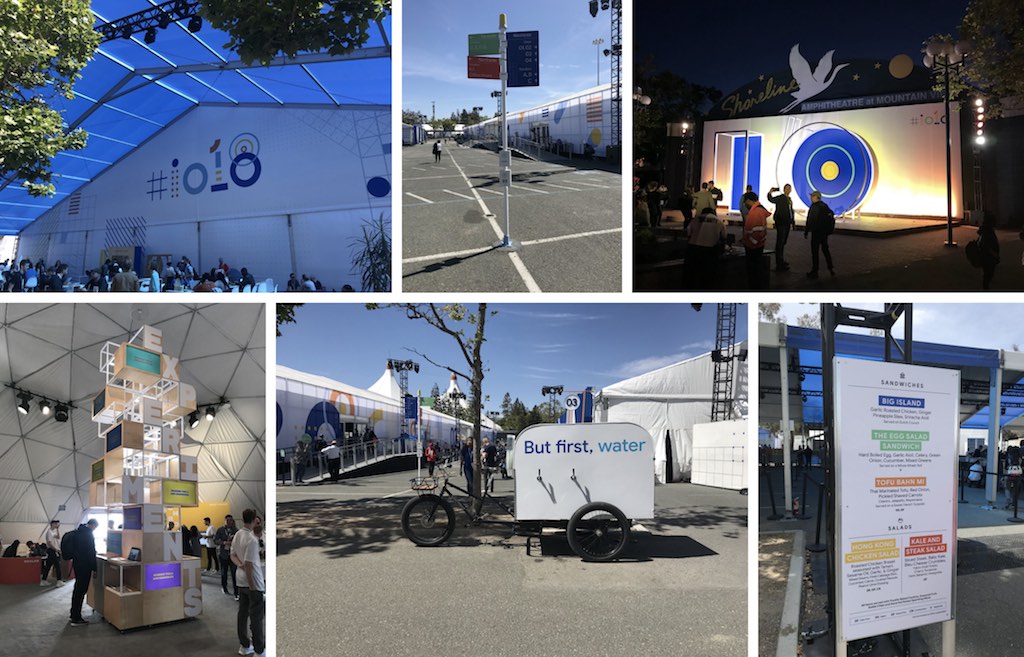 Clockwise from top left: i/o branding on a session tent, wayfinding, big i/o installation for Instagramming selfies, a lunch menu, water wagon, experiments exhibition
Tents vs. the critique room
Each conference provided an opportunity to meet with their designers for two critiques, design and accessibility (more on that below). Google provides tents or exhibits for many of the technologies including design. It was easy to come and go from the design tent at any time even if you didn't have a critique appointment. At WWDC you can't get into the room without an appointment.
Google very cleverly held mini 'box' talks in a corner of their tent. The talks offered great insight into how Google designers work and how they applied the latest Material and Flutter technologies, including a few sessions on how the conference app was designed. The tent provided the space to talk with other designers, not just Google designers, and fostered some community.
In terms of the critiques, they were helpful and insightful, as well as validating to the direction I was taking with a recent project. Of course there's not much time especially when presenting a complex app, so highlighting a few key experiences and interactions yielded the best result. Each conference also has separate accessibility audit appointments which are very helpful in accessing an app and taking back to the office tangible actions. Since I was just beginning a new project, I was able to include accessibility from the start into designs as part of every deliverable.
Clockwise from top left: the near-empty lounge late in the day, the lounge packed after iOS12 beta was announced, attendees playing AR games, conference staff wishing us a goodbye (there was a chant), Thursday night concert in the park.
Something design related to announce
We're unlikely to see this repeated every year, but Google made several design specific announcements related to Material design. Made early on, this gave attendees time to drop by the Design & Accessibility tent and speak with designers (and Material developers).
There are no design specific announcements at WWDC, however they do host the Apple Design awards which are worth watching. Understanding the apps that Apple recongises for going above and beyond to create thoughtful & useful experiences is eye-opening, inspiring and humbling.
Clockwise from top left: the food tent, board with ever changing posters for daily events, alley between session tents, Hannah and John, Jelly Beans (afternoon snacks were either health or Android code-name treats
On site staff
WWDC is well staffed by Apple Store employees who bring an amazing energy to the conference. Just picture those opening day lineups at stores and you get a good picture. They are everywhere and very helpful. Bumping into engineers or product managers is less random (I did luck out speaking to a product team in the lounge), otherwise you go to the tech open hours or book an appointment. For Google, I didn't inquire where the event staff were from. Friendly and helpful, they weren't cheerleaders in the same way as at WWDC, except on concert night. However with the product tents it was far easier to get chatting with an engineer or product manager, even one working in a specific domain. For design, the tent was alway open and accessible.
Meetups
Both conferences had spaces and times for groups to meet up, such as communities & regions of the world, interest groups around certain technology, leadership, and for Google, women & visible minorities. These are good safe spaces to bring together groups under represented in tech, so big kudos to Apple and Google for that. I know both companies go the extra mile to make their workplaces inclusive and safe, and they could bring some of that additional inclusion to conference with space for LGBT, disabled, and other visible minorities in the case of WWDC. And of course when providing space for 'game makers' or other interest groups, a get-together for design would have been useful in fostering the app design community. I recognise these are developer conferences, however both conferences make an effort to distribute tickets to designers. In the case of WWDC, a separate design event happens in San Jose at the same time which provides a great opportunity but it's impossible to attend both.
Left to right: me in the main hall waiting for a presentation, an AR demo with LEGO!, conference wayfinding
Final note
Both conferences bring their A-game with conference branding. The event is an experience, and both Apple & Google do an excellent job creating a consistent visual identity. There's also normally background music playing at both events powered through their respective services (and devices), though it was more obvious WWDC came from Apple Music. It didn't hurt that we received push notifications about the Apple Music playlist on the last day (and yes, I've listen to it a few times since)
Each conference also produces a helpful companion app, but this is where Google took the design crown and used their app to showcase some of the excellent new Material design components (bottom navigation, chips, animations).